User Interface Customization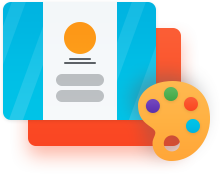 A beautiful and user-friendly login page will make any web application unique. With the Blitz Identity Provider authentication server you can create beautiful and convenient login pages for each connected web application.
Large variety of pre-configured designs
You can make the sign-in pages of your applications bright and stylish, choosing from several suggested login page designs. There are available
three color themes
ten options for standard background images
three options for locating the input data entry block
In addition, you can set your own logo in the header of the login page, customize the individual appearance of the bottom edge of the entry page, use your image as a background.
Advanced customers can make their own design
If you are not satisfied with any of the standard login page options, then you can configure the login page so that it looks completely in accordance with the design you need. To do this, Blitz Identity Provider allows you to create your own HTML page templates and use your own style sheets (CSS).
Also Blitz Identity Provider allows you to specify different values of text lines displayed in the user interface – you can, for example, make translations of strings for another language or your own version of the lines for your applications.
Unique design for each application
You can use the same login page design for all applications or customize the individual appearance of the login pages for use by each application.
The unique design of the login page is useful for users not to be lost on the login page. The login page will convey the context of how the user accessed it and which application it logs on – the user interface will be more friendly.